proFPGA CUT for Stratix 10M
Technical Highlights for Stratix Partitioning
Single- & Multi-FPGA board support
Guided Stratix® 10 GX 10M DIE-to-DIE Partitioning
Verilog, System Verilog and VHDL design entry
Generation of Quartus® Synthesis and P&R scripts
Product Summary Stratix 10 M Partitioning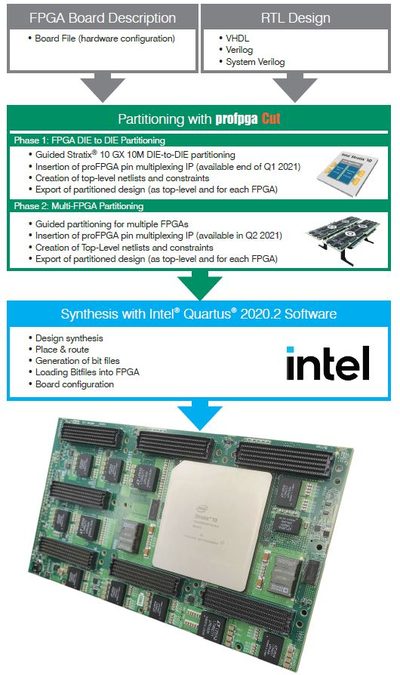 The Stratix® 10 GX 10M FPGA is the latest and largest FPGA of Intel®'s product portfolio. It is based on a two-die architecture and equipped with the Embedded Multi-die Interconnect Bridge (EMIB) technology. The EMIB technology connects the two fabric dies within the FPGA in order to achieve a maximum density of 10.2 million-logic elements.
The proFPGA CUT software is designed to partition designs between the two dies of the Intel® Stratix® 10 GX 10M FPGA. The easy-to- use software is applicable for all kinds of customized boards based on the latest Intel® Stratix® 10 GX 10M FPGA technology. proFPGA CUT guides the user step-by-step through the design implementation flow and gives him a structured overview. The software contains a guided partitioning tool that handles all required tasks - from importing RTL files, partitioning, insertion of multiplexing schemes, speed optimizing, untill exporting it for Intel Quartus® synthesis and place & route tools. Consequently, the user has still full control over the design and the tool supports him to shorten this usually time consuming and complex process. Further, proFPGA Cut offers features like logic optimization, constraints setting, conversion of multi-point interconnections into point-to-point interconnections, or semi-automated movement of
instances or nets.
The proFPGA software contains and implements multiplexing schemes for the Stratix® 10 GX 10M die-to-die connection over Intel's DIB (Direct Interface Bus) and as well for the interconnections between multiple FPGAs. Different interconnection schemes with different pin multiplexing factors, data rates, I/O standards and clocking schemes can be created for each design.
The proFPGA Cut software can be used for the die-to-die partitioning of single FPGA boards as well as for the design partitioning of multi-FPGA Intel®Stratix® 10 GX 10M boards. Besides the GUI mode, which guides the user through the flow,
the tool offers also a command line mode that allows the user to script all processes and to fully integrate into its automated design implementation flow.