proFPGA Debugging with EXOSTIV™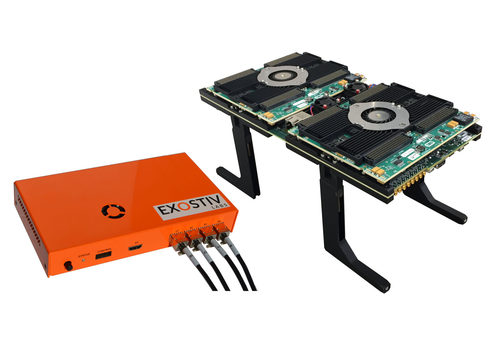 Technical Highlights
8 GB total trace storage per probe
50 Gbps bandwidth for trace extraction
Probing of up to 32,000 signals simultaneously
Support of Xilinx and Intel® PSG FPGAs
Further information and related links
More information about EXOSTIV™:
Product Overview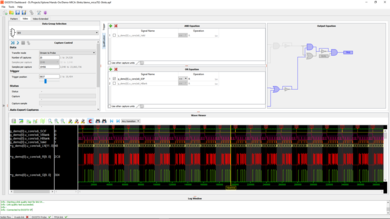 In close collaboration with our partner EXOSTIV™ Labs, PRO DESIGN offers a debugging tool which has a flexible standard and custom connectivity solutions: Low (micro-)HDMI connector for custom boards and FMC, SFP+ and QSFP+ standard connectivity for any prototyping board.
EXOSTIV™ is an innovative debug solution for FPGA boards. It provides simulator-like visibility – up to 200,000 times more than JTAG-based tools – and fast debug turnaround time for standard and custom FPGA boards. Unlike software-based techniques and emulation, EXOSTIV™ is used on the target or prototyping boards running at speed of operation. It provides an extended visibility on internal nodes over large periods of time – and this, with a minimal impact on the FPGA resources.
Reach internal nodes
Extract trace
Control & Analyze

Up to 16 capture units
Up to 16 data groups per CU
1 trigger + 1 qualification unit per CU
Up to 2.048 nets per data group
IP RAM does not grow with capture size
Sampling @ operating system speed

Up to 8 GB for trace storage
Up to 4 x 12.5 Gbps bandwidth
Uses FPGA Transceivers
Custom, SFP+, QSFP+ and FMC connectivity
Downstream channel for IP control

USB 2.0 or USB 3.0 connection with workstation

IP configuration & insertion
Trigger and data filter set up
IP communication and control
Trace reception and encoding
Advanced waveform viewer
Reach
EXOSTIV IP uses the MGTs (Multi-Gigabit Transceivers) to flow captured data out of the FPGA to an external memory. EXOSTIV IP supports repeating captures of up to 32,768 internal nodes simultaneously at the FPGA's speed of operation (16 data sets x 2,048 bits*).
EXOSTIV IP provides dynamic multiplexer controls to capture even more data sets without the need to recompile. Dynamic ON/OFF controls of data sets let you select the data set and preserve the MGT's bandwidth for when deeper captures of a reduced set of data is required.
Store
EXOSTIV Probe provides up to 8 Gigabyte memory to receive and store data captured from the FPGA. This USB 3.0 Super Speed device establishes the communication channel between the EXOSTIV Application and the IP. EXOSTIV Probe provides multiple physical connection types with the target board that holds the FPGA under test. From 1 to 4 Gigabit Transceivers (up to 12.5 Gbps each) can be used over either SFP/SFP+ or HDMI connectors and cables.
Control & Analyze
EXOSTIV Dashboard is composed of the Core Inserter and the Analyzer.
EXOSTIV Core Inserter manages sets up the configuration IP and inserts it at RTL or synthesis level into the design. To do this, it establishes a communication link with the FPGA vendor tool suite.
EXOSTIV Analyzer manages data captures from the target design. It provides tools and controls to view, analyze and export the captured data. EXOSTIV Analyzer includes MYRIAD, the industry's first waveform viewer capable of handling terabytes of waveform data.