proFPGA Software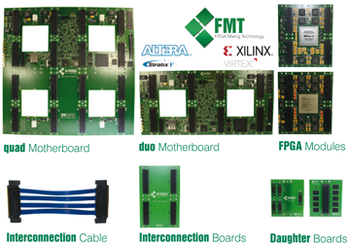 The proFPGA product family is a complete and modular multi FPGA solution, which meets highest requirements in the area of FPGA based Prototyping.
The proFPGA product series consists of three types of motherboards (uno, duo, quad), different kinds of FPGA Modules (Xilinx Virtex® UltraScale™, Xilinx Virtex® 7, Xilinx Zynq™, Intel® Stratix®), a set of interconnection boards/cables, and various daughter boards like DDR3/DDR4 memory boards or high speed in- terface boards like PCIe, USB 3.0 and Gigabit Ethernet.
It addresses customers who need a scalable and flexible high speed ASIC Prototyping and IP verification solution for early software development and real time system verification.The innovative system concept and technologies offer highest flexibility and reuseability for several projects, which guarantees the best return on invest.

The proFPGA Builder provides a powerful environment to easily model and create the system architecture, which the user would need and would like to test for his design. With the proFPGA Builder the user can already model and ...
More Information >>