proFPGA PCIe DMBI Connector Board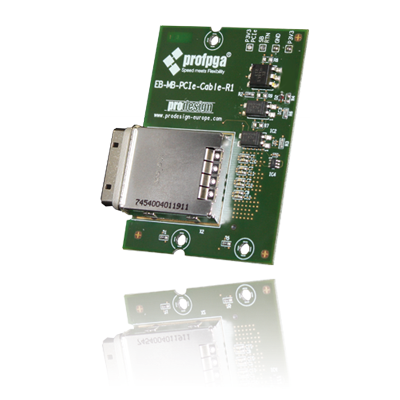 Technical highlights
PCIe gen1 DMBI Connector Board
Motherboard connector for high speed DMBI
Data rate up to 3.2 Gbps
Plugged on proFPGA duo or quad motherboard
Requires proFPGA motherboard
Product Summary
The proFPGA product family is a complete, scalable, and modular multi FPGA solution, which fulfills highest needs in the area of FPGA based Prototyping. Because of its modular and scalable system architecture, the user has maximum flexibility and reusability.
Part of this modular and flexible system concept is the proFPGA PCIe DMBI Connector Board. The proFPGA PCIe DMBI connector board needs to be plugged on an dedicated connector of the proFPGA duo or quad system. Into the proFPGA PCIe DMBI connector board a high performance PCIe cable can be plugged and the system can be connected to the host over an PCIe gen1, 4 -lane host Interface card (see also: proFPGA PCIe DMBI Kit).

The proFPGA solution provides the user the possibility to configure, monitor and manage the system remotely from the host with help of the DMBI (Device Message Box Interface) over several interfaces like USB2.0 and Ethernet. While the Ethernet or USB interface offers the user a data exchange rate of max.100 Mbps the proFPGA PCIe DMBI significantly increases the data exchange performance with up to 3.2 Gbps, which is 32 times faster than over the Ethernet interface.

Because of this high data exchange rate, the user can benefit besides the remote system configuration from the capability to use this high speed interface most efficiently for debugging purposes like data streaming or sending and receiving of test pattern and so on.
proFPGA PCIe DMBI Connector Board
proFPGA interface
1 x PCIe gen1, 4-lane proFPGA DMBI connector board
Data rate
up to 3.2 Gbps
Others
Equipped with ID chip for automatic board recognition via proFPGA motherboard
Requirements
proFPGA motherboard or system, PCIe host interface card and cable (proFPGA PCIe DMBI Kit)
Product article number
PROF23A EB-MB-PCIe-Cable-R1
Order Code
PROF-A-MI-PCIe-DMBI