proFPGA duo & quad Casing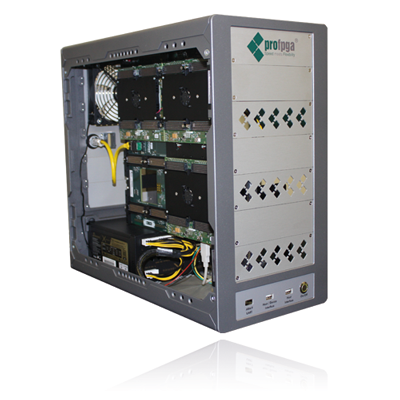 Technical highlights
Fits for complete proFPGA quad or duo system
Very robust, flexible and high quality aluminum construction
Full access to all sides of proFPFA prototyping system
Easy mounting and installation of proFPGA system
19" rack compliant
Product Summary
The proFPGA duo/quad casing holds a complete proFPGA duo or quad ASIC Prototyping system including daughter boards, cables and power supply.
The very robust and high quality aluminum case was designed for proFPGA system hardware protection, and cooling. The housing offers full access to all sides of proFPGA prototyping system via removable side walls and cover plates.
The proFPGA duo or quad system can easily be mounted into the proFPGA housing which is designed to fit into a 19" rack.
proFPGA duo/quad Casing features
Flexibility
housing offers full access to all sides of proFPGA system via removable side walls and cover plates
Construction
very robust and high quality aluminum case for proFPGA system hardware protection, and cooling
Compatibility
designed to fit into a 19" rack
Requirements
proFPGA duo or proFPGA quad system
Dimensions
16.81" x 8.62" x 18.30" / 427 mm x 219 mm x 465 mm (width x height x depth)
Order Code
PROF-A-MI-DQH