proFPGA USB 2.0 & 3.0 Interface Board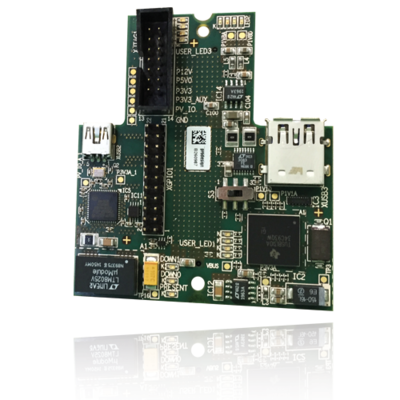 Technical highlights
1x Mini USB connector (USB 2.0 device mode)
1x USB A female connector (USB 3.0 device and host mode)
12 user LEDs (3x blue, 3x green, 3x red, 3x yellow)
GPIO header with 18 FPGA signals, 2x 1.8 V, 2x GND
14-pin JTAG connector (ARM JTAG)
Product Summary
The proFPGA product family is a complete, scalable, and modular multi FPGA Prototyping solution, which fulfills highest needs in the area of FPGA based Prototyping. Because of its modular and scalable system architecture, the user has maximum flexibility and reusability.

Part of this modular and flexible system concept is the proFPGA USB 2.0 & 3.0 Interface board. This daughter board occupies one extension site of the proFPGA system and provides two USB ports. One USB port is available through a mini USB connector and is connected to a USB3250 (Microchip). The USB3250 is a hi-speed USB device transceiver with UTMI interface. This USB port can be used to implement a USB 2.0 device in the FPGA with UTMI interface.

The second USB port is available through a USB A female connector and is connected to a TUSB1310A (Texas Instruments). The TUSB1310A is a USB 3.0 Transceiver which can be either used as an USB host or device.
proFPGA USB 2.0 & 3.0 Interface Board
proFPGA Connectors

1x proFPGA extension board connector (1 at bottom-side)

Interfaces

1x Mini USB connector connected to USB3250 (USB 2.0 device mode)
1x USB A female connector connected to TUSB1310A (USB 3.0 device and host mode)

Others

12 user LEDs (3x blue, 3x green, 3x red, 3x yellow) connected to FPGA pins
GPIO header with 18 FPGA signals, 2x 1.8 V, 2x GND
14-pin JTAG connector (ARM JTAG)

Product article number
PROF080 EB-PDS-USB2-3-R1
Order Code
PROF-A-I-USB2-3