proFPGA PCIe gen3 Root Complex Board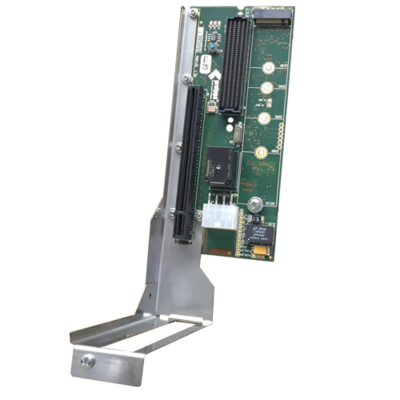 Technical highlights
PCIe x16 socket, where 8 MGT lanes are connected
M.2 connector with Key M, where 4 MGT lanes are connected
Additional 12V power connector
3 LEDs and one button for user usage
proFPGA TOP connector, for unused IOs
Product Summary
The proFPGA product family is a complete, scalable, and modular multi FPGA Prototyping solution, which fulfills highest needs in the area of FPGA based Prototyping. Because of its modular and scalable system architecture, the user has maximum flexibility and reusability.

Part of this modular and flexible system concept is the proFPGA PCIe gen3 Root Complex Board. The Board has a PCIe x16 socket where 8 MGT lanes are connected and an M.2 socket with Key M where 4 MGT lanes are connected. In addition to this it offers a 12V power connector if the PCIe card draws too much current, 3 LEDs and one push button for user usage.

The proFPGA PCIe gen3 Root Complex Board will be plugged on an extension site of the proFPGA FPGA Module and offers a proFPGA top connector to make unused FPGA signals available.
proFPGA PCIe gen3 Root Complex Board
proFPGA Connectors

1x proFPGA extension board connector (1 at bottom-side)

Interfaces

PCIe x16 socket, where 8 MGT lanes are connected
M.2 connector with Key M, where 4 MGT lanes are connected

Others

An additional 12V power connector if the PCIe card draws too much current
3 x general purpose LEDs1 x and 1 x button
PCIe bracket, that PCIe card can be fixed

Product article number
PROF0100 EB-PDS-ROOT-COMPLEX-M.2-R1
Order Code
PROF-A-I-PCIe-RC