proFPGA PCIe gen3 8-lane Kit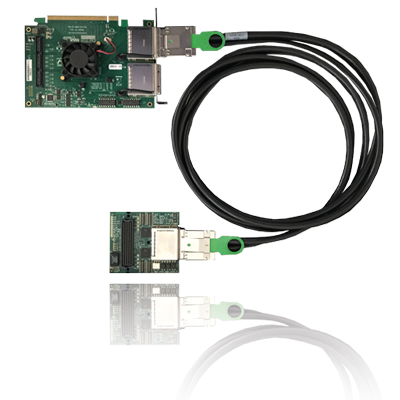 Technical highlights
Complete PCIe gen3, 8-lane host-proFPGA interface kit
PCIe gen3, 8-lane, host interface card
proFPGA 8-lane, PCIe gen3 connector board
PCIe gen3, 8-lane compatible cable, 3 meter length
Data rate up to 8 Gbps per lane
Product Summary
The proFPGA product family is a complete, scalable, and modular multi FPGA Prototyping solution, which fulfills highest needs in the area of FPGA based Prototyping. Because of its modular and scalable system architecture, the user has maximum flexibility and reusability.

Part of this modular and flexible system concept is the proFPGA PCIe gen3 8-lane Kit. The proFPGA PCIe Kit provides up to 8 lanes gen3 PCIe communication interface between PC and FPGA Module to implement a PCIe downstream system at the proFPGA system. All unused FPGA Module pins are routed to top side connector and are available for user applications.

The kit consists of a proFPGA PCIe gen3 8-lane daughter card, which will be plugged on a free extension site of the proFPGA FPGA Module, which provides the required high speed serial transceivers (MGTs), 1x PCIe gen3 8-lane host interface card and a dedicated high performance cable. The kit reaches a data rate exchange of up to 8 Gbps per lane, which allows to run the PCIe gen3 interface in real time speed.
proFPGA PCIe gen3 8-lane Kit
Host interface

1 x PCIe gen3, 8-lane host interface card

proFPGA interface
1 x proFPGA PCIe gen3, 8-lane connector board
Cable
1 x high performance PCIe gen3, 8-lane compatible 3 m length cable
Data rate
up to 8 Gbps per lane
Others
Equipped with ID chip for automatic board recognition via proFPGA motherboard
Product article number
PROF077 EB-PDS-PCIe-Cable-R3
Order code
PROF-A-I-PCIe-Gen3-8-Kit-U