proFPGA DAC Interface Board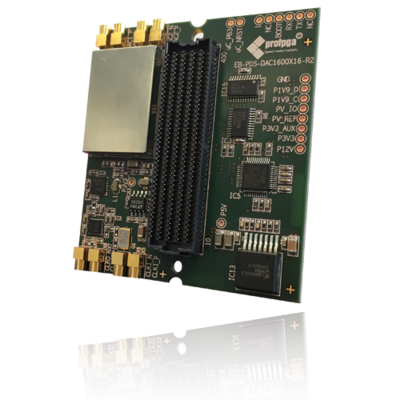 Technical highlights
16bit digital-to-analog converter (AD9142A, Analog Devices)
Sample rates up to 1600MSPS
Programmable clock generator
Optional clock output and output via MMCX connectors
1 external clock input, 1 external trigger input
Product Summary
The proFPGA product family is a complete, scalable, and modular multi FPGA solution, which fulfills highest needs in the area of FPGA based Prototyping. Because of its modular and scalable system architecture, the user has maximum flexibility and reusability.

Part of this modular and flexible system concept is the proFPGA DAC Interface board. This daughter board occupies one extension site of the proFPGA system and provides a dual, 16bit digital-to-analog converter (AD9142A, Analog Devices) that supports sample rates up to 1600MSPS. Both DAC outputs are connected via analog filter stages to MMCX connectors.

A programmable clock generator is available to provide clocks to the DAC and optionally to the FPGA and MMCX connectors. There are also MMCX connectors as a alternative clock input of the clock generator at the board. Each DAC has its own filter stage shown in Figure 146. These stages are identically for each DAC output. The implemented Low pass filter (LFCN-800+, Mini-Circuits) passes frequencies between DC and 800MHz with a maximum insertion loss of 1.3dB through. Its cut-off frequency is 990Mhz.
proFPGA DAC Interface Board
Features

1x Analog Devices AD9142A TxDAC+ DAC
16bit digital-to-analog converter that supports sample rates up to 1600MSPS
EMI shielding

Clocking

programmable clock generator (configuration via proFPGA plugin)
optional clock output
optional clock input
optional clock connected to FPGAs clock capable inputs

Product article number
PROF053 EB-PDS-DAC1600x16-R2
Order Code
PROF-A-I-DAC