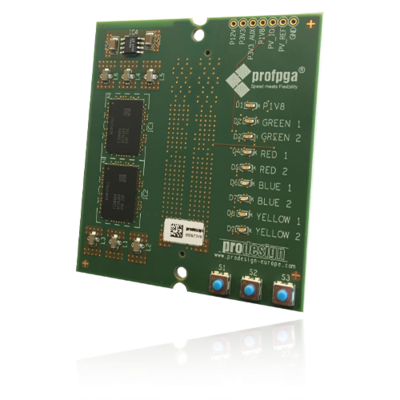 Technical highlights
2 GByte LPDDR4-3200 memory
2x Samsung K4F8E304HB-MGCJ Chips
3x push buttons
8 user LEDs
Works with Northwest Logic's proprietary LPDDR4 PHY
Product Summary
The proFPGA product family is a complete, scalable, and modular multi FPGA solution, which fulfills highest needs in the area of FPGA based Prototyping. Because of its modular and scalable system architecture, the user has maximum flexibility and reusability.

Part of this modular and flexible system concept is the proFPGA LPDDR4 board. This daughter board occupies one extension site of the proFPGA system and offers with 2x Samsung K4F8E304HB-MGCJ memory devices 2 GByte LPDDR4-3200 capacity. Besides the board offers three push-buttons and 3 on board LEDs.
Northwest Logic's full-featured, high-efficiency LPDDR4 SDRAM Controller Core is verified for the Virtex UltraScale based proFPGA platform and LPDDR4 Memory Boardsolution and utilizing Northwest Logic's proprietary FPGA-based LPDDR4 PHY.
Merken
proFPGA LPDDR4 Board
Memory modules

2x Samsung K4F8E304HB-MGCJ Chips

Capacity
2 GB
Verified Controller and PHY
Northwest Logic's LPDDR4 SDRAM Controller Core and proprietary FPGA-based LPDDR4 PHY
Compatibility
Works with all available proFPGA Xilinx Virtex UltraScale basedFPGA Modules
Others
Equipped with 8 LEDs and 3 x push-buttons
Product article number
PROF117 EB-PDS-LPDDR4-R1
Order code
PROF-A-M-LPDDR4